1953
After the war, US automakers looked at the cool cars that American soldiers brought home from Europe when returning home. Chevrolet was first with their smart Corvette that would take up the competition with the European sports cars.
Ford were a bit stressed by Chevrolet who presented their Corvette already in 1952. It had received som criticism for the "Blue Flame Six" 6-inline engine. Ford decided to use the reliable V8, and it was decided early that the car would be in sheet metal instead of plastic which was used in the Corvette. In addition it would have real side windows and a hardtop as an option unlike the Corvettes very simple cover. To keep the costs down, many parts was used from existing production..
1954
A "mock-up" was presented at the Detroit show i February 1954 which was similar to the later production cars except for some details. Over 5.000 name proposals was reviewed before picking Alden "Gib" Giberson's proposal, a car designer at Ford. He received a $95 suit from Saks Fifth Avenue with an extra pair of pants for the name Thunderbird.
You could say that the 22nd October was the official date when the Thunderbird was presented.
The car was designed by William P. Boyer under the supervision of Franklin Q. Hersey and production started September 9th. There were orders for 3.500 cars already after 10 days, which far exceeded expectations. Production was estimated to10.000 cars the first year, which became 16.155 units made.
One of the first cars produced, VIN P5FH-100005, is owned by CTCI member no 160, George Watts in Orange, Californien.
1955
The 1955 model of Thunderbird had a removable hardtop as an option and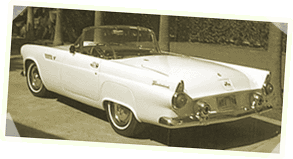 a 102 inch wheelbas and a total length of 175,3 inches, with 72 inches and 52 inches high. The weight was 2833 pounds.
The engine was a Mercury 292 c.i. V8 that developed 198 hpr with automatic gearbox och 193 hp with the manual gearbox.
The first car rolled down the isle in Dearborn 22nd October and there were close to 4.000 orders from the first day of production. Over 16.000 cars were sold of the 55 model year.
Price was $2.695, with convertible $2.765 and could be ordered in Thunderbird Blue, Raven Black, Snowshoe White, Goldenrod Yellow or Torch Red, all with matching vinyl upholstery.
1956
A slightly modified model was presented where the most noticeable differences was that the hardtop now could be ordered with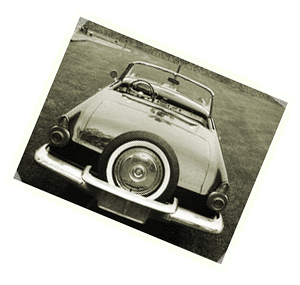 "portholes" to help the somewhat limited view in the earlier version. The spare wheel was now located as a continental kit at the back since the spare wheel occupied too much space in the trunk. New was also the intake vents in the front fenders since there hade been complaints about the ventilation in the car, and there were also sunvisors and windvisors mounted to keep the wind out. The steering wheel was a concave safety model and seat belts was optional.
This year also had an option of a 312 c.i. V8.
15.631 cars were made of this model.
Price rose to $2.944 and $3.019 with convertible, with options up to $3.800.
1957
This model had slightly more changes with more rocket like fins on the rear fenders and a longer rear boot, and the grille beacame a little wider in the front. A new option was Volumatic Radio System which automatically adjusted the volume on the radion when the speed increased, and also there were Dial-O-Matic electric seats with memory.
The spare wheel was back inside the trunk but this time standing up vertically, which finally solved the complaint about the small trunk in the previous models.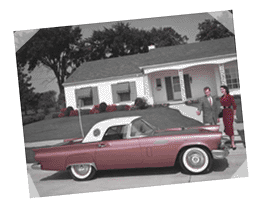 This year there were four different engine options, the C series 292 c.i. engine with two barrel carburator and 212 hp with which there were only 3 speed manualt gearbox as an option.
The D seris was the most common option with an 312 c.i. engine with an four barrel carburator and 245 hp. It made 0-60 mph in 10 seconds and top speed was 115 mph. It could be delivered with 3 speed manual gearbox with overdrive or the Fordomatic gearbox.
For the E series there were Fords "High Performance Special" engine with 270 hp, tuned up with a special camshaft and twofourbarrel carbs. There were also a "Racing" version with 285 hp. These models could be ordered with 3 speed manuel, with or without overdrive, or the automatic.
Then we have the F series with 312 c.i. engine, with other heads, sharper cam, distributor and a four barrel carburator and this was fed through a Paxton-McCulloch VR57 compressor who pushed air with 6 psi overload. McCulloch claimed the engine produced 360 hp, but Ford was causious and said 300 hp.
This series could be ordered with any gearbox and other options, worth mentioning is that the cost for the compressor alone was $500.
There were rumors that a correct optimized engine could reach between325 and 340 hp and manage0-60 mph in 6 seconds and reach 125-130 mph.
1957 21.300 cars were made. Of these C series was produced in 3.300 units, the most common, D series was produced in 16.423 units, E series in 1.499 and F series between 208 to 211 units. 14 of these were the compressor fed "D-Birds", of some called "D-F Birds", who was made in january 1957 for the NASCAR races.
13:e December 1957 the last car rolled out of the factory.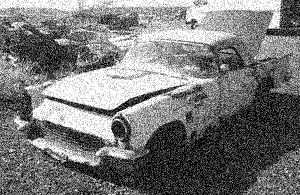 According to some sources, of the approx. 53.166 cars made there are approx. 30% left today, compared to the average for collector cars of approx. 10%.
We have a lot of team mates out there!
Most of the information is collected from www.ctci.org i USA.
Last update: 2010-04-07 22:43:25